Neuroscience is a dynamic and growing field that unites discoveries from biology, psychology, human physiology, and many other disciplines to probe the edges of human understanding. The UO has an established reputation for excellence in neuroscience research, and our program is the first of its kind at a public university in Oregon. Students who major in neuroscience have the opportunity to work in a field that could represent some of the 21st century's most astonishing and transformative breakthroughs.
What you can do with a degree in Neuroscience
Upon completion of the neuroscience major, students will be well-prepared for careers in scientific research, medicine, and other health professions, as well as science-related government, nonprofit, and industry jobs. Neuroscience graduates can find employment in:
Healthcare clinics and hospitals
Government agencies that focus on neurological diseases
Public health and global health organizations
Pharmaceutical companies
Biotechnology companies
Management consulting firms specializing in healthcare companies
Colleges and universities
Research institutes and laboratories
Scientific writing and publishing
77
STUDENTS ENROLLED AS NEUROSCIENCE MAJORS IN FIRST TERM OF OUR PROGRAM
100%
OF TENURED INSTITUTE OF NEUROSCIENCE FACULTY MEMBERS HAVE PUBLISHED A PAPER WITH A UO COLLEAGUE
40+
SCIENTISTS TRAINED BY THE CENTER FOR TRANSLATIONAL NEUROSCIENCE IN ITS FIRST FIVE YEARS
Unlocking the Secrets of the Brain
"The first time I held a human brain in my hand was such a magical moment. I felt so thankful I got to be part of the cadaver lab, and that was the moment I knew that neuroscience was for me. Neuroscience is emerging out of its infancy, and there's so little that we know about the brain, even though it's such a central part of our lives."
—Minh Anh Nguyen, neuroscience major, '21
Our Degree Programs
Neuroscience majors gain a strong foundation in the natural sciences while exploring three main areas of neuroscience: molecular/cellular neuroscience, systems neuroscience, and cognitive neuroscience. Undergraduate students can earn a Bachelor of Science (BS) or Bachelor of Arts (BA) degree in neuroscience.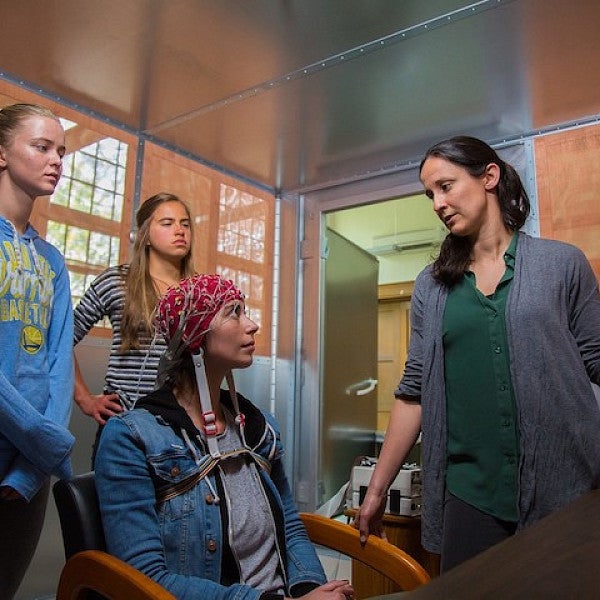 Learn from Experts in the Field
Neuroscience is an interdisciplinary major that brings together award-winning faculty from the departments of Biology, Human Physiology, and Psychology. Many of the program's faculty are affiliated with the Institute of Neuroscience, a group of UO researchers who have pooled their expertise to tackle fundamental questions in neuroscience.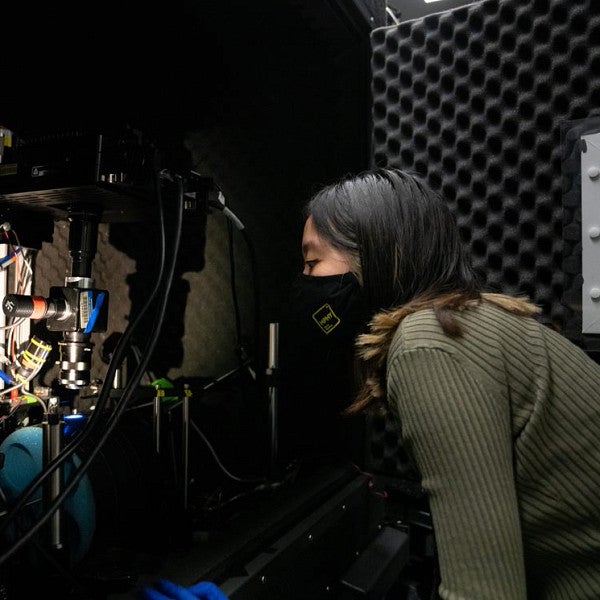 Get Real-world Experience
Beginning as early as their first year, neuroscience majors are encouraged to engage in hands-on research, working side-by-side with faculty in cutting-edge research labs across the university. Students can take their investigations in many different directions, from molecular, cellular, behavioral, anatomical, and computational to more explorative types of research.
Scholarships and Funding
Students can seek funding through the College of Arts and Sciences, which awards various scholarships to both incoming students and those who are already attending the UO.
Undergraduate Scholarships
Academic Support
Students are strongly encouraged to maintain contact with their academic advisors to discuss their course of study and plan for their careers. Neuroscience majors can seek advising through Tykeson Hall.
Undergraduate Advising